Hotels in Bharatpur Back
Hotel Laxmi Vilas Palace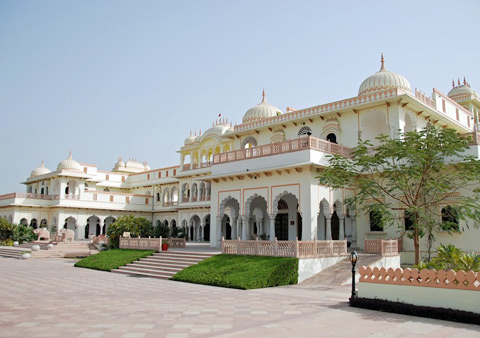 Description : Lakmi Vilas Palace was built in 1899. It is an interesting blend of Mughal and Rajputana architecture. The hotel is surrounded by beautiful mustard fields. Needless to say, the palace is breathtaking and the ambience truly exalting. This well Designed palace is an interesting blend of both Mughal and Rajput architecture having courtyards, arched windows, and traditionally painted verandahs. Near to the palace is camping site with orchards and lush green fields. Other attractive features available on request include jeep, horse safaris and camel trips that offer ample scope for bird watching and give an insight into the village life.17, Fully Air Condition Standard Rooms. Each with its own Rajasthani Character. Stay here and feel the difference. Amenities:
Front Desk, Banquet, Restaurant, Casino, Coffee Shop, Room-Service 24 Hours, Bus Parking, Outdoor Parking, Parking, Heated Pool, Jacuzzi, Outdoor Pool, Sauna, Conference Facilities, Meeting Facilities

Services : Post, Pool, Laundry, Medical, Travel Desk, Barber Shop, In Room Telephone Service, Front Desk-24 Hours, Maid Service, Wake up service

Facilities In Room : Deluxe AC, Cable TV, Shower, Bath Tub, Work Desk, Safe Deposit Box

Property Location : Alwar 36 Kms, Jaipur 120 Kms, Delhi 200 Kms., Jaipur Agra Highway.