Hotels in Mandawa Back
Hotel Castle Mandawa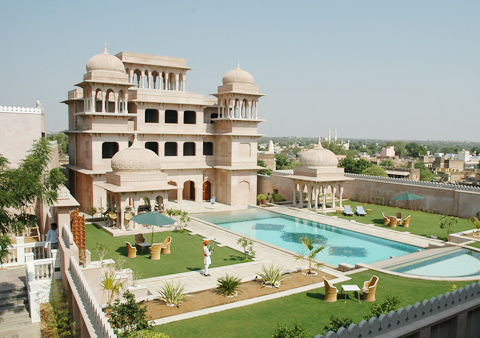 Classification : Heritage hotel

Location : 260 km from Delhi, 165 km from Jaipur and 200 km from Bikaner

Accommodation and History : Towering high above the town of Mandawa, this rugged handsome fort guides the tired and weary traveller to its portals. Built in 1775 by Thakur Nawal Singh, descendant of Rao Shekhaji, who also founded the city of Nawalgarh.

The Castle, now a 51 rooms hotel has no two rooms alike. It also houses an interesting collection of paintings, jade, costumes and antiques. The courtyard and the terrace come to live during evenings with candle-lit dinners and fire-dances during the season.

Facilities include mural painted formal dining room, an informal cosy room, a bar in the colonial verandah, Diwankhana, the formal drawing room, camel ride and safaris, jeep safari, Travel Assistance and Currency exchange.