Mercedes Benz E-Class Back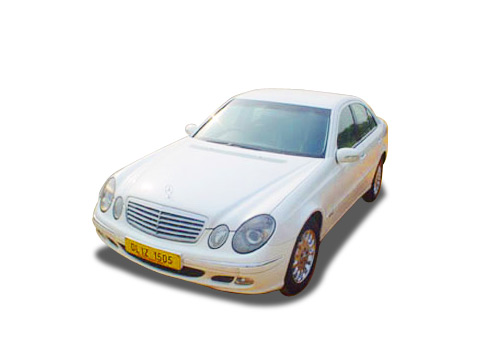 Manufacturer - Mercedes
Engine
Number of cylinders : 6
Bore and Stroke (in mm.) - 89.9 x 84.0
Displacement (cm3) 3199
Max. Power 165 Kw / 224 Hp @ 5750 rpm
Max. Torque 315 Nm @ 3000 - 4800 rpm
Dimensions
Length - 5158 mm
Width - 1855 mm
Height - 1444 mm
Weight - 2330 kg
Sitting Capacity - 5, Luxrious Seat
Air - Condition/Heating
Mercedes-Benz India Limited (MBIL) is a joint venture between DBAG (86%) and Telco (14%). MBIL was among the first Auto joint ventures formed in India. What mattered the most at that point was that it was a Mercedes-Benz that I was driving.Again a star was leading my way. And that, let me tell you dear reader, is a blissful way to travel. For a fleeting moment, it was easy to forget that I was driving the newest E on the block, that it looked sharper than the one before, that it had interiors that could make you instantly comfortable.

Alright, I confess that I am a sensitive soul, who loves cars and I do occasionally get carried away when it comes to new Mercedes-Benzes. So it was my quest to collect some inputs from fellow motoring scribes before and at the launch function. "The new E? It's a caricature of the original," said the editor of a leading car magazine, not entirely dismissing its looks.

Inside, the car the new E-Class is, apes its luxo-barge elder sister, the S-Class, rather than its predecessor. Add to that a few deft touches borrowed from its sporting cousin, the SL, and what you get are the best interiors in its league , car is a remarkable deviation indeed. There is enough wood and plenty of switches in this car too, but all tastefully and ergonomically designed around the '95 percentile male'. Which means the car will accommodate 95 per cent of men in the year 2005, however short or tall they come. They say God is in the details, and if you don't believe it, I request you to check out the purple back-lit instrument console and bevelled controls. The new E-Class' interior blends new age colours, surfaces and textures to the old fashioned class, elegance and the smell of cow hide. Brilliant. And we are talking about the Elegance trim, which would be the only option available in India.