Hotels in Orchha Back
Orchha Resort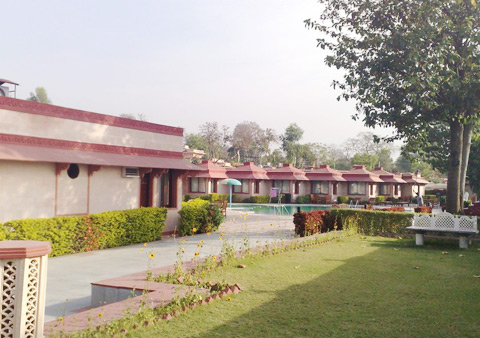 Location : Kanchanaghat, Orcha 126 kms. from Airport; 20 kms. from Railway Station; 20 kms. from Bus Stand

Rooms : 34 Rooms

Welcome to Orchha. A Place, where legends speak, where grandeur marries peace, where beauty enjoys herself an eternal honey-moon and solitude whispers sing-songs to the eager ears, has always been receiving notice by those who care to feel the pulse of course the warm soul of India.

Welcome to The Orchha Resort. The surroundings are serene with Betwa River flowing right across the landscape. With all the five star facilities at your disposal and the serenity of the location will make your stay comfortable and joyful.

Food is great here. Pollution free area will add hunger to enjoy and fulfill your thirst for peace and happiness and pamper your senses. So cut loose let the resort take care of your needs and make you feel at the top of the world.

Accommodation : The Resort provides a glimpse of rich and glorious past of the Indian tradition and culture. The spirit of Orchha has been sought to be captured in the Orchha resort through the use of the architectural style, which is synonymous to Orchha.

The rooms have a comfortable double bed, a study table where you can write your memories, a small table for two where you can enjoy a candle light dinner and pamper your taste with the delicacies from our very own Kaleva restaurant.

Dining : Treat your taste buds on a - La - Carte Menu, specially made by trained chefs including Snacks, Breakfast, and Lunch/Dinner.

Recreation and Health : Other facilities and services offerd by the Orchha resort include Special Theme Events, Health Club with Sauna, Pool Side Recreation, and Outdoor Badminton & Tennis Facilities at the bank of river Betwa.

Events celebrated at the Orchha Resort include New Year Eve Dine and Dance, Folk Dances, Village Theme Dinner, and Fireworks during Diwali (Festival of Lights).